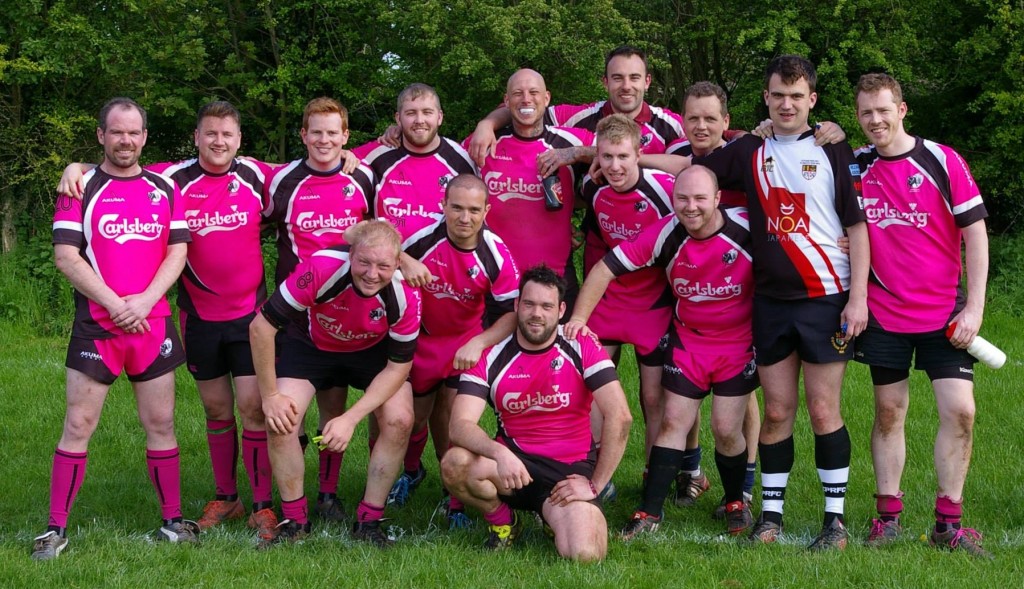 Welcome to the home of the Bristol Bisons RFC - the South West's only inclusive and gay friendly rugby club. Please feel free to explore this site to find out a bit more about us.
If you'd like to, checkout our Zoti Shop, where both Supporters and Members can buy their own Team Wear and wear our colours with pride. You will be supporting us by making a purchase as the club gets money back for each sale.
Ben Wainwright6:45pm18th of October 2014
Match results are now in. Match reports and photos will follow shortly. If you believe this result to be incorrect, please let me know.
Ben Wainwright9:43pm16th of September 2014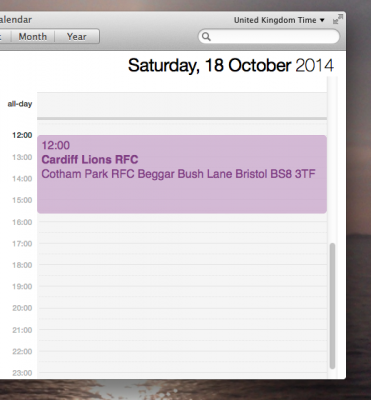 Did you really want to come to one of our fixtures, but couldn't because you double booked yourself? Wouldn't it be great if our fixtures and social events just appeared in your calendar? well now this can happen.
The more astute of you might have noticed some links appearing at the top of the fixtures and events page in the last couple of weeks. These links are to iCal (.ics) feeds; if you click on them, most major calendar applications will allow you to add them automatically into your diary. This will mean exactly what I have described above will happen: every time an event or fixture is published on this website, it will automatically be added into your diary. How cool is that?
Drew Macgreal7:17pm14th of September 2014
A warm, sunny day at The Diamond Ground in Cardiff. The pitch was fresh from the morning rain which had cleared as quickly as it had arrived, providing a good pitch for impact, of which there was to be plenty. Sadly, by the end of the match, the Bristol Bisons had been humbled into a 14-40 loss to long standing local rivals Cardiff Lions.
It was the first match of the season and although not all inexperienced, both sides had a number of new players. It was the perfect opportunity for both to show the culmination of their pre-season training, and initiate their new players into what is it to play full contact rugby.
Early on, a series of infringements made by the over-exuberant Lions, both inexperienced and seasoned, gave the Bisons great headway and confidence going into the first half. The Bisons held their own going into every breakdown, not shying (More...)
Ben Wainwright3:14pm6th of September 2014
Match results are now in. Match reports and photos will follow shortly. If you believe this result to be incorrect, please let me know.
Drew Macgreal7:16pm5th of September 2014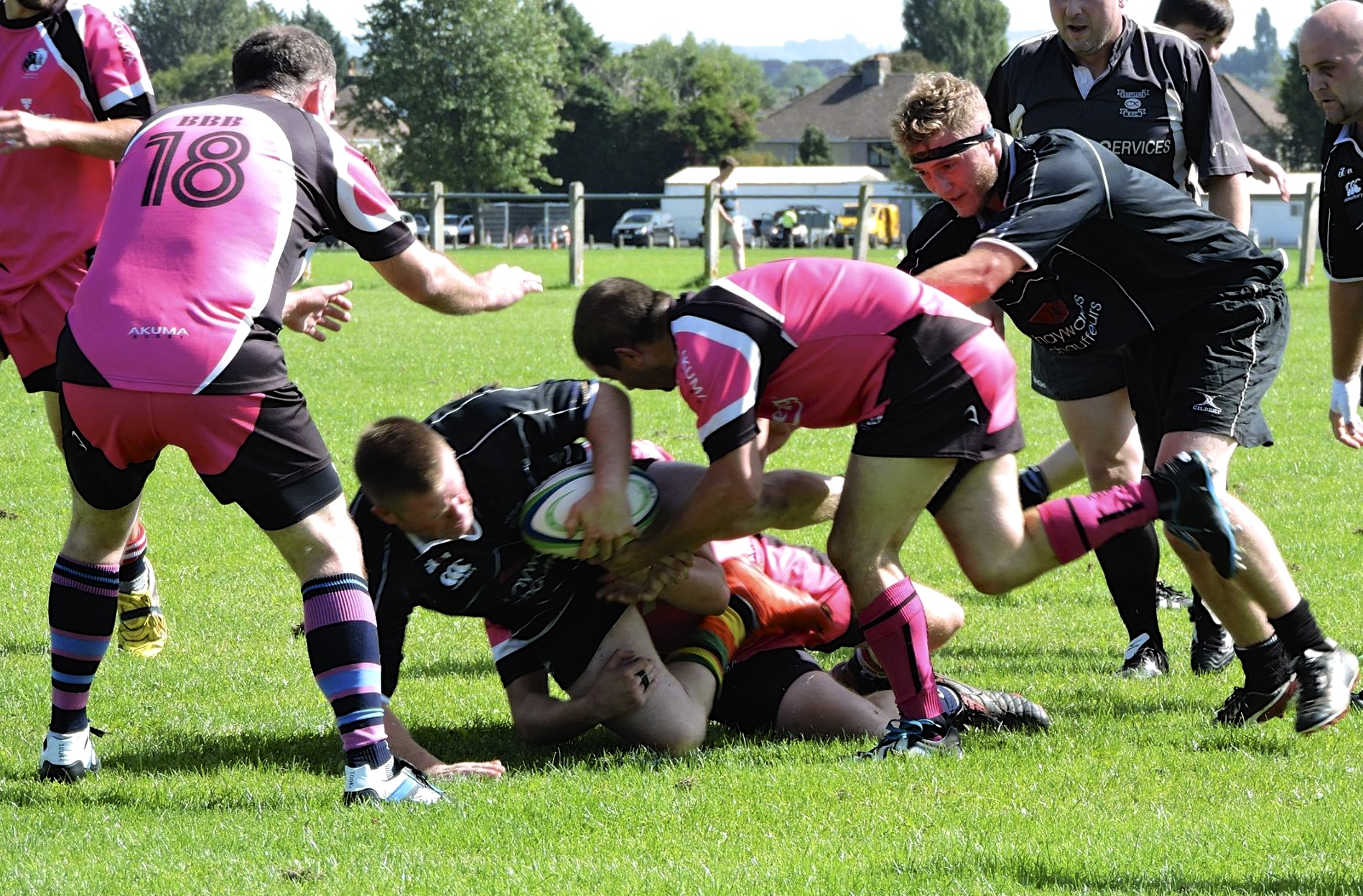 What better way to spend a Sunday afternoon than getting a bit physical on a field with three different rugby teams for a great cause? Last Sunday, we decided to do just that – the Bisons were invited to team up with BAC RFC and Aretians RFC to play a match raising money for a young disabled rugby fan named Tyler.
Tyler Gudge (now 4) was born disabled and his parents were told he has 'Global Development Delay', which essentially means the professionals don't really know what is wrong with him. Because he lacks a real diagnosis, nobody really knows what the future holds for him, but at present Tyler cannot crawl, walk or talk and there is little sign of this changing. Because of Tyler's particular needs, as he gets older, his home is becoming unsuitable for (More...)
Ben Wainwright11:45am26th of August 2014
Well we've had quite a week here at Bisons HQ. A fantastic training session on Thursday was attended by twenty-five people which is a new Bisons record! This training session was brought to you by David and focused on the core value of teamwork.
The following night saw the first official social of the season and the chance for Josh, our social secretary, to unleash his own particular brand of beardy meyhem on our fresh-faced newbies. If you were following his Facebook up until this point, you will know that this night has taken a reasonable amount of planning (and a not insignificant amount of canned cream).Starting off in the Bristol Bear Bar, moving on to The Bank Tavern and (after I had left) finishing off in The Queen Shilling, the Bisons pretty much took over every venue we went to with (More...)
Ben Wainwright8:54am17th of August 2014 0
Date

Kickoff

2:00pm

Players Arrive

12:00pm
Location

Cotham Park RFC
Beggar Bush Lane
Bristol
BS8 3TF
This fixture has now been confirmed by the committee; We'd love it if you could come along and support us, and please feel free to bring friends, family and pets along!
If you are a player with questions about the fixture, please get in touch with the relevant committee member; you can find contact details in the player's area. For any other queries, please contact us via the contact form at the bottom of the about us page.
Josh Deuchars6:15pm11th of August 2014
Location

Bristol Bear Bar
2 West St
Bristol
I'm seeing lots of new faces appearing in the group and it's been a while since I've seen some older (and uglier) face, so it's about time we all got suitably merry and got to know our new bisons a little more… intimately. Nudge.
I'm expecting laughter, tears and the potential for some embarrassment and maybe a little vomit – fluffy bunnies anyone?
You've got just under two weeks to get excited. Feel free to submit any ideas as to how we'd like to welcome our new team mates. I've already got a few of my own… You have been warned.
Ben Wainwright5:21pm3rd of August 2014
Pre-season training is finally upon us! It was great to see some new faces on Thursday and I will hopefully get a chance to introduce you to some of them at some point soon, so watch this space.
The session was run as a joint effort between our fantastic coaches Mark and Lee and our illustrious chairman David. We all got very sweaty and much fun was had. It was particularly great to see new members really getting involved, one even scoring a try in touch rugby! Some things I was reminded of:
Lee likes to run sideways (but we already knew that).
Charlie, as well as having more tattoos than your average tribal witch-doctor, likes to keep them protected with a comprehensive layer of sweat when exercising. It also has the handy side-effect of making him impossible to grip.
Sal can (More...)
Ben Wainwright7:58pm17th of July 2014
Event Details
Location

Cotham Park RFC
Beggar Bush Lane
Bristol
BS8 3TF
Now that the glitter has settled and the sound of the Freemasons has stopped ringing in your ears, we thought it might be a good time to let you all know that it is time to dig out your boots, dust off your scrum caps and make sure your tiniest shower towels are on hand, because training starts again in two weeks.
Many of you know the drill, but for those that don't, here is how it works: turn up at 7pm, make sure to bring some kind of sports clothing, studded boots or trainers, shampoo and a towel. New players are always welcome, so if you are unsure about anything please make sure to send us an email using the contact form on the About Us page. See you there!